Dates, games, and maybe dating games.
I suppose that anyone who is anyone hereabouts already has theirs (I know I do) but for those that just haven't quite gotten around to it yet here's a peek at the 2015 Futurama calendar. Our good chum

Spaceman130

sent in some photos of his. There's the cover, awesome centerfold, and back cover. They're in our Miscellaneous Pictures section.
And speaking of Spaceman130 he also sends some Fan Art. Those that follow his exploits in these pages are probably aware that he's a big fan of the video game

Vampire Rain: Altered Species

for PS3, which has inspired him to draw a few pics of a Futurama crossover version which he calls

Vampire Rain: FUTURISTIC Species

. There's a promotional picture (see here) for the game with Fry and his team posing with various weapons, a "screenshot" of the game and it shows Fry in the sewer sneaking up behind Dwayne (who's really a nightwalker) with a shotgun, and one of Leela posing with her sniper rifle.



And, just to round things out, a new Fan Fiction. It's called Oh My! and it's by Futuregirl223. It starts with the premise that Fry had a half sister who followed him to the future. She meets Zapp, the usual happens, and .... oh my!
Also, this is just part 1, so we might not quite get to the real Oh My just yet.
Free will my shiny metal!
Return with us now to those heady days of yore, back in two thousand twelve when new episodes of Futurama were still airing. Ahh, what a time that was. And following in the same vein, this is a two-fer in the things we haven't seen in a while, 'cause DSS has returned with a new bit-o-Fan Art, which is Leela using her scrunchie as a catapult from the episode

Free Will Hunting

.



And next up is a Fan Fiction by Robert Stewart. I've had the pleasure of meeting Mr. Stewart and I can tell you he's a fun guy with a lot of funny stories to tell. His latest fic is called Let's Fix Time and it's about the PE crew dealing with a security guard with a bad personality.
The good, the bad, and the broken. Also new buddies
Well, for those of you that tried to get onto FMMB (aka our Message Board) today, you probably noticed it was broken, returning as it did a cryptic and not terribly informative error message. The good news is it's fixed now. Huzzah to

Graham

to the rescue.
Sorry to everyone who couldn't get their FMMB fix for the last 12 hours, I had the DT's too.


Another bit of brokeness that's still lurking about - since it's inception, FM/TLZ's URL has been www.futurama-madhouse.com

.ar

. Much more recently, we picked up www.futurama-madhouse.com and www.futurama-madhouse.net. Well, bad news everybody, for reasons I won't go into (mostly 'cause I don't really know what the whole story is) the futurama-madhouse.com

.ar

domain has not been renewed
and no longer gets you to FM/TLZ. This breaks a few things. Like every link to us on every other website out there (I've been notifying them as I find them, several have already been fixed
) but more importantly, some of our own internal stuff still points there. Wallpapers and Framegrabs are known victims. We're searching the South American jungles for Leandro in hopes that he can fix some of it. Meanwhile, if you find something else that doesn't work, please let us know.
Now the we've got the bad and the broken out of the way, let's get back to the good stuff. At the bottom of every page on this site is the Buddies section where other fan sites that have passed our rigorous selection standards (eg they could figure out how to e-mail us and ask
) get links. And language is no barrier, so if you can read Hebrew, or even if you can't, please welcome futurama-il.tk which bills itself as "The Futurama fun site in Hebrew" (I'm sure it looses a little in translation
).



And lasly but far from leastly is a new

Illustrated

Fan Fiction by Gulliver63. It's a futuristic take on an old idea 'cause it was inspired by a 1955 Asimov story called

Dreaming is a Private Thing

. The world of tomorrow version is titled Dream Jumpers and it explores what happens when the Professor attempts to explore people's dreams in his research. His biggest problem is that Mom wants to steal his work for her own evil plans. In the midst of all this we find that Fry has a special gift no one knew about.
Will Fry be able to escape the clutches of the evil Mom? And will Mom show everyone just how venomous she really is?
Did I mention that it's

Illustrated

?
lampoons for everyone
In a send up of almost everything here's some new pages to Inquisitor Hein's Fan Comic

30

. In a send up of unemployed Space Nazis, Mutant Turtles, rabid news reporters, the Futurama medical community, and a whole bunch of other legions of darkness, the new stuff starts on Page 47.
And if that isn't enough, over in the Fan Fiction arena Spaceman130 builds on his

Vampire Rain

inspired

Falling Rain, Spilling Blood

with two chapters of a continuation story called Breaking Comminucations in which Fry and his team are tasked with destroying an antenna to cut off communications between their enemies. However, Fry runs into some unexpected problems on the way there...
Fan art by Javier Sánchez/The Futurama Point
Hello, Goodbye?
The Simpsons-Futurama cross-over episode, Simpsorama, is scheduled to be broadcast on Fox on November 9. Per Simpsons EP Al Jean "The plot will revolve around bad boys Bender and Bart: Bender has to come back from the future to kill Bart because there's something that Bart does now that makes the future really, really, really bad."
In addition to John DiMaggio (buh), it looks like most of rest of the cast (i.e., Billy West, Katie Sagal, and Phil LeMarr) will be in the episode. Tess McNeil was also mentioned to be in the episode but since she's on the Simpsons it doesn't say what she'll be doing. The foregoing text lifted straight from

Marloc

's post on the Simpsorama thread on the Message Board since it was way easier for me that way.
Tricks and Treats
Boo! Happy Halloween everyone! Hope you scored lots of treats. Here's a treat, two of them actually, that happened as a result of a trick. I speak of course of the ill fated Crap Art contest from a couple of updates back.
Well, the win is we got some new crap art! I'm tryin' to think but this just might be the first CA I've done here and it's been ... uh ... a really long time.
Anyway, here's a couple of pics of the crew as Jack-O'-lanterns by Spaceman130.
kaspired sends this spookey Fan Art called

Demon Amy

. He called it his "minor" little contribution to the Halloween fest (the quotes on the word minor are mine - I've seen this guy work, he must have at least ten or fifteen minutes into that, hardly "minor" in my book
). He doesn't really say what's going on here, just wishes us Happy Halloween and that he figured the mystery of what is happening is more fun.
Anyway, here's a real kicker - would anyone like to own the original of this print, hand drawn on 11-1/2 x 17 inch 150 lb illustration paper, with a mere 44 colors? Well, it might just be possible. Kaspired has graciously offered to let us auction off the original, along with the practice sketches, proceeds to go to supporting this site. So stay tuned to this page for more info to be announced shortly.
We'll be running this ourselves so it's real unlikely that Fox will make us call it off.
And not to be left out of the festivities, Gulliver63 also has a couple of screamers. One is another Amy-thing so I'll show this vampire-Morgan instead.
Happy Halloween everyone!
Masterminds
Happy Friday everyone! Here's a new spot o' Fan Art from Ralf Stumpf. It's called

Amy Wong Mastermind

and the back story is that Amy found an old invention of Farnsworth's, the "Smart Blaster". It looked like a hairdryer to her so she used it, but not only did she get smart she also get evil and she made a new costume for her new ego. From now on her goal is to rule the world.
For some reason, I'm OK with that.

Call this double Fan Art day because here's some more, eight of 'em in this batch from Spaceman130. He says that the line drawings are about eight years old and they're his first attempts at drawing Bender, Fry, the Professor, Kif, and Zapp. The b&w sketches are the originals, the other ones were colored in this week.


And lastly, I received some Halloween related art (not this one) today which reminds that said holiday is coming up in just a couple of weeks. So any appropriately themed contributions would be most welcome.
Fan art by Jodes aka Mrs-Ryuzaki-Fry


What's that, Agnew? A telegram?
Baroo! There ... seems to have been some ... We've been scammed again, people. Prepare to evacuate Earth. I mean, New Scamedonia.
Yup, bad news everyone, I feel just like Nixon's head in

Bender's Big Score

'cause the contest for the free Fry Halloween costume - well, the company just pulled the rug out from under us.
You know there are times when the contributor tells it better than I ever could and in those cases I let them speak, so I'll do the same here. They speak thus: "We've hit a very large snag in our process here. We just learned (we being marketing) that Fox has put a block on all of our licensed giveaways. Meaning we will be un-able to do a give away with you at this time.
Normally these approvals aren't an issue and we are working on it on our end.
My humble and deepest apologies.
Ever in your Service,
David "Rosey" Rosencrance
e: david.rosencrance@fun.com p: 507-386-0207 fax: 507-386-0517
Delivering memories through a billion smiles, a million laughs and a few disapproving headshakes." Yeah, get a load of that last line in his signature. There's a few disapproving headshakes around here today.
So, sorry folks,

the contest is off

. Whether it was really Fox (and as we all know it wouldn't be the first time) or some marketing minion overstepping their bounds we shall never know. BUT, if you've done some crap art, don't let all that suppressed talent go to waste - send it in anyway. At least we'll all still be winners!
Fan art by Javier Sánchez/The Futurama Point
On to more enjoyable business, aka new Fan Fiction and Fan Art time, all combined into one. It's another Illustrated Gulliver63 fic.
This one's called Little Things II: Empire of the Ants. At the end of his previous Little Things story, Morgan Proctor thought it would be a great idea to use Farnsworth's hyper-intelligent ants as employees.
Her plans run afoul as a revolutionary ant leads them down the path to world domination. Will the Planet Express be able to save the Earth? Or will they be forced to feed sugar cubes to their new masters? All will be revealed in this sequel and conclusion to the

Little Things

saga.
And now, something new, something old. The new is this article in our Miscellaneous Pictures section, another dusty corner of the Madhouse that doesn't see much action. The old is this article that was published in

24 Hours Toronto

on December 11, 2012 about all those great animated shows we were still watching back then, and, the picture of those other Groening characters notwithstanding, there is a section on Futurama and it's own diehard legion of followers. That's us baby! Thanks to

Spaceman130

for contributing the clipping so we could archive it.
Get Ready to Fling Excrement and Win!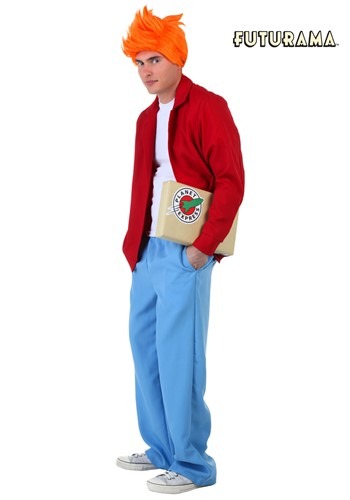 Halloween is coming up the end of this month and Futurama-Madhouse is offering you, the discerning reader of this site, an opportunity to win, absolutely free

asterisk

, this amazingly cool Fry costume, a $48.99 retail value.
How cool is that? Seeking some free advertising, the good folks over at halloweencostumes.com have offered one free to any winner we designate in some kind of contest of our own design. So, how to throw together a quick and dirty contest that anyone could have a chance at? Well, while we were taking the flamethrower to one of the dustier and more neglected wings of the Madhouse, inspiration hit - Crap Art!
Yes, anyone can do Crap Art and that area could use a little invigorating so grab some crayons and any old scrap of paper and listen up: Draw and submit one or more

crappy Halloween and Futurama themed Crap Art pictures

by

midnight EDT (UTC-4), Saturday, October 18, 2014

. Entries must be e-mailed to tim@futurama-madhouse.net (please put "Crap art contest" in the subject line). Graham and I are the judges and the winner will be announced just as soon as the 5 hour time difference between us will allow for. Decision of the judges is final. Winner will be provided with contact info to claim their prize.
Futurama Madhouse reserves the right to publish any and all submissions in our Crap Art section and to laugh derisively at the "art" and "artist".
And if you don't feel like making bad drawings and risking public humiliation, you could just always order a costume directly. I'm sure they wouldn't complain.
(asterisk - any taxes or other nonsense imposed by the winner's local, regional, or national governments are the responsibility of the winner).
Darkness, Dreams, and Aquarium Gravel
Three tasty treats this afternoon, the first is this cool T shirt with some cool crossover Fan Art on it. 3D character artist Ralf Stumpf who hails from Germany made this. The pic is, obviously, Fry and Amy as zombies in the pose of the cult classic Army of Darkness poster. Ralf drew the art and had it printed on a shirt, so sorry, it's one of a kind, I can't tell you where you can order yours.
The original artwork, along with another one of some of the crew doing a little Wizard of OZ cosplay is on his fan art page.



We started with Fan Art so tradition practically demands that we follow that up with a Fan Fiction. I mention this because it seems that CartoonLover27 has been having strange dreams lately (net necessarily BAD dreams, schlee is careful to point out
) and it inspired this story called Bad Dream. I'm told it's kind of corny.
I'm just gonna let kaspired explain his latest work of Fan Art: "What this is, is colored gravel on non-glare green glass plexiglass. (uh... non-glare is matte finish, green glass plexi has a slight greenish tint which if the edges are polished look like a piece of glass not a piece of plastic.)
Why this is, is because I could.
How this came to be is an odd story. At work we have about 200 pounds of colored glass beads from a job that went bad. Now we're not quite sure what to do with it. My boss idly mentioned maybe somebody could make a mural. My mind clicked. I tried glass beads but they didn't stick. So I found some necklace beads from an arts and craft store but either the beads looked way too cheap or were way too expensive. Plus there was this annoying hole in the middle of each bead. By blind luck I fumbled onto a fish aquarium store. They sold colored gravel for the fish tanks. Scored! It wasn't a perfect match, I know she's not supposed to have orange lips, but close enough.
First photo: The final. 1/4 x 13 x 17 inch (6 x 330 x 432 mm)
Second photo: Close up detail. My signature is written on the back. Which means it had to be written in reverse so it'd be right reading from the front.
Third photo: Work in progress. The red is the tape I used to adhere everything."